To enhance the charm of the Carriage, we offer the following, which gives you the opportunity to use the carriage hire to embellish the theme you have chosen for your wedding.
Additional courtesies if requested: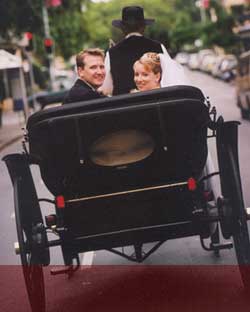 Red Carpet Service for the Bride at the Church to complete your entrance (Cinderella Carriages only)
Silver Goblets for the Bride and Groom for photographic purposes (due to transport regulations there is no eating or drinking in the carriages)
First Carriage booked has first choice of:
Colour of Horses
This is not a guarantee of horses, but first choice, as the animals well being will always be our foremost concern. If there are circumstances not allowing us to fulfill your request you will be contacted immediately by telephone to discuss alternative arrangements.
Driver and Footman uniforms
Black Tie - Black Top hat / Bowler hat OR Acubra hat, Black Vest, White Shirt, Black Bow tie and Black Trousers (Jacket worn in colder weather)
English Hunter - Black or Grey Top hat OR Black Bowler hat, Red Vest, White Shirt, Black Bow tie and Black or Grey Trousers (Jacket worn in colder weather)
Australian - Acubra Hat, Vest, White Shirt, Bow tie or Check Tie and Black or Beige Trousers (Driza-bone worn in colder weather) OR Khaki shirt with check grandpa collar, Black Trousers and Acubra Hat.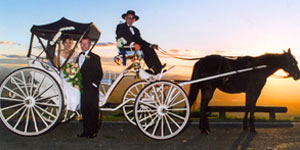 As every wedding is unique, your wedding carriage selection will suit your individual style.
We invite you to spend a few moments of your time to view our carriages and discuss your requirements with us.
To avoid disappointment reservation for your wedding carriage should be made as early as possible. A deposit is all that is needed to secure your date and time.
---